What is Chairsyde?
Chairsyde is an interactive patient communication platform that helps dentists explain conditions, treatment options and risks to patients, both face to face and virtually. Accessible via any device – no software download required.
A new era of patient communication. 
Jaw dropping animations
---
Showcase and personalise in-depth HD animations of dental conditions, treatment options and risks.
Upload, tag, categorise and annotate your portfolio to showcase your work.
Evidence of your communication
---
Create a contemporaneous audit trail of your communication with our unique Smart Tracking feature and deliver consent through shared decision making.
The right way to consent…
---
Annotate our presentations and send out automated, personalised post-consultation summaries to help 
validate understanding.
Virtual consultation add-on
---
The safer way to consult remotely. Carry out virtual consultations with our video calling add-on feature built specifically for dentists. Showcase our animations online whilst safely tracking your consultation.
Communicate like a pro
Our mission is to make it easier, safer and quicker for our community of dentists to communicate effectively, empowering your patients to make better decisions about their health. Come and join us.
---
Improve patient understanding
65% of patients are visual learners, yet most of our consults are verbal. Help transform your patients understanding.
Increase case acceptance
With better patient understanding of diagnosis, treatment options and risks, increase case acceptance by 32%.
Help mitigate risk & stay compliant
Our visuals give patients a better understanding of their options and risks. Our Smart Tracking  creates an audit trail to help keep you protected.
Optimise surgery time
Free up surgery time by 28% and add more services to meet patients' changing 
needs and increased demand for cosmetic procedures through virtual consultations.
Increase goodwill
Create exceptional patient experiences, helping them make better decisions about their health. Patients appreciate this and support word of mouth referrals.
65% of patients are visual learners.
Take your patients on a visual journey…
---
Use Chairsyde anywhere, anytime on any device. No download needed.
High-quality visual representations
Access our premium suite of animations, photo's and illustrations covering dental conditions, treatment options and risks.
Help mitigate risk
Contemporaneously time-stamp and track an audit trail of your consultation to help mitigate risk like never before.
Secure video consultation
The safe way to consult with patients remotely. Showcase animations over our secure video calling platform, all time-stamped and tracked.
Built for dentists by dentists
Founded by dentists, we understand your challenges. Chairsyde was built to help make patient communication easier, safer and more effective.
Meet GDC and CQC requirements
We provide the communication, consent and tracking tools you need to help satisfy GDC standards and CQC requirements.
Dental protection and BACD partner
We work with the worlds' largest indemnifier of dentists and the British Academy of Cosmetic Dentistry.
Built by dentists, recognised by dentists
Winners of Innovation of the Year 2021
What you can achieve with Chairsyde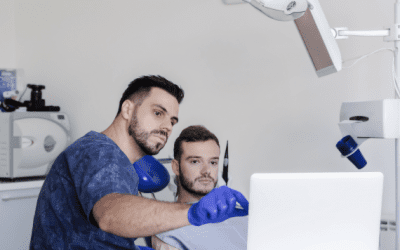 Anirudh Kapoor explains how Chairsyde is helping to transform patient communication. Dentistry has seen various changes through time. The last year has been no exception with the COVID-19 global pandemic sparking various arguments and opinions about the way that...
read more