for Dental Protection
Dental Protection Xtra practices get a free Chairsyde account worth £199.95 per month and all other Dental Protection members get 20% off.
 Designed by dentists to protect dentists.
---
Chairsyde has partnered with indemnity leaders Dental Protection to support the community with innovative technology that will help dentists mitigate risk. With interactive, visual communication that's timestamped and tracked, Chairsyde's patient communication platform helps your patients visualise their diagnosis and treatment options and risks, increasing case acceptance and helping to keep you dento-legally protected.
"We want to support members and respond to the challenges they face now, and beyond Covid-19. I am therefore excited about our partnership with Chairsyde which will provide dentists and their patients with this unique technology for use remotely or during face-to-face consultations."
"Chairsyde are a fitting partner for Dental Protection as we hold many of the same values; we are both run by dentists for dentists, and we are both working to support dentists in managing their risk of cases, claims, and complaints whilst fighting to reduce the cost of indemnity. Chairsyde has many applications and its content and design helps to address many aspects of patient communication, consent, record keeping and clinical risk management. A lot of dentolegal cases identify shortcomings in one or more of these areas. The functionality of the platform should significantly drive down the risks associated with these shortcomings."
Raj Rattan, MBE
Dental Director at Dental Protection
"We're delighted to announce this exciting and innovative
partnership with leaders in indemnity, Dental Protection, to help our community of dentists by reducing stress and mitigating risk associated with claims through our unique and interactive smart technology. As a member myself, it is inspiring to see the measures Dental Protection have taken to keep their community of dentists safe."
"Our joint mission, to protect dentists and ignite practice growth whilst transforming patient health is an exciting proposition that will not only have a positive impact on daily practice but will also help shape the future of dental consultations for the better."
Loven Ganseswaran
Dentist and Founder of Chairsyde
Educate your patients
---
Use interactive animations, annotations and photography so that patients undertsand the procedure they're agreeing to.
Gain informed consent
---
Deliver personalised education which is time-stamped and tracked in your records to improve patient understanding while gaining informed consent.
Adopt a post-COVID world
---
Give patients access to your practice from the comfort of their own home and ensure you remain protected during your virtual consultations.
Free access for Dental Protection Xtra Practices. Forever.
---
*for practice account worth £199.95 plus VAT. For all other dental protection members, recieve 20% off any package. See Pricing for more details.
Dental Protection Xtra
£199.95
FREE for Xtra practices or 20% off for all other Dental Protection members
Unlimited users
All Chairsyde Animate features
All Chairsyde Virtual features
Bespoke team training
Exclusive Dental Protection premium content
Patient consultation training
Centralised management
Dashboard analytics
Multiple practice admin
65%

of patients are visual learners. 

Take your patients on a visual journey…
Welcome to a new era of patient communication 
High-quality visual representations
Access our premium suite of animations, photo's and illustrations covering dental conditions, treatment options and risks.
Help mitigate risk
Contemporaneously time-stamp and track an audit trail of your consultation to help mitigate risk like never before.
Secure video consultation
The safe way to consult with patients remotely. Showcase animations over our secure video calling platform, all time-stamped and tracked.
Built for dentists by dentists
Founded by dentists, we understand your challenges. Chairsyde was built to help make patient communication easier, safer and more effective.
Meet GDC and CQC requirements
We provide the communication, consent and tracking tools you need to help satisfy GDC standards and CQC requirements.
Dental protection and BACD partner
We work with the worlds' largest indemnifier of dentists and the British Academy of Cosmetic Dentistry.
What you can achieve with Chairsyde
What do I need to get started?
Chairsyde works on any browser on any device, just simply sign up and login.
Does my patient need to download an application on their phone or tablet?
No, all video calls can be made with any device, anywhere, anytime. With accessibility in mind, we have made Chairsyde extremely simple and easy to use for both clinicians and patients.
Can I use Chairsyde on my tablet?
Yes Chairsyde can be used on any device, anywhere, anytime. With accessibility in mind, we have made Chairsyde extremely simple and easy to use.
Are there additional fees?
No, there is no additional fees associated with licences.
What user data is stored and where?
Chairsyde only stores patient information captured during the booking – none of the data that is exchanged in a video call is saved or recorded.
None of the audio, video or data exchanged in a Chairsyde call is stored by Chairsyde. Specifically, Chairsyde does not store any clinical information that is exchanged in a call. All of the video, audio or shared documents in a call are transmitted peer-to-peer only, are fully encrypted and cannot be listened into by anyone except for the call participants. That data does not even reach Chairsyde servers..
Can I cancel anytime?
Yes, if you choose a monthly subscription, you will only be charged for that month and you can cancel anytime.
How can Chairsyde reduce my risk as a Dental Protection Member?
Dental Protection believe Chairsyde has the potential to reduce a dentist's risk of receiving a claim, case, or complaint through:
o Using the animations to enhance communication with patients, helping them to understand their diagnosis and treatment options better than verbal communication alone.
o Dental Protection believe by using the animations to aid discussion with patients that they are likely to feel more informed and therefore more comfortable in making a decision and providing consent.
o Chairsyde also tracks the consultations including time and date stamped records of visuals shown to a patient, patient consent, and notes.
o Chairsyde enables dentists to email the consultation notes to patients and for them to revisit the visuals shown at the appointments. If a patient opens the email, reads the notes, or accesses the visuals again, this too is time and date stamped.
o Chairsyde also provides patients with the ability to contact their dentist directly with any questions – the ability to do this has the potential to support members in a case or claim.
It is important to note that showing the visuals provided on Chairsyde must be accompanied with the appropriate verbal communication regarding the diagnosis and treatment options.
Is Chairsyde GDPR Compliant?
We've made sure that Chairsyde is GDPR compliant making it a worry-free solution for Dentists across the UK.
What practice management softwares do you currently integrate with?
We're working with the leading practice management softwares and currently have a light integration with EXact and SfD (Systems for Dentist). You need to have a practice account to integrate.
What if I am a Dental Protection member but not a Xtra practice member?
Good news! We provide all Dental Protection members a 20% discount on our Associate Pro licence. If the majority of the clinicians in your practice are also Dental Protection members, we recommend you becoming a Dental Protection Xtra practice. Contact us for more information hello@chairsyde.com
Do I need to enter card details?
Not for the first 7 days of the free trial. To continue the free months trial for the month, card details are required but you will only be charged from month 2 onwards.
Does Chairsyde save me time?
Yes, it is much quicker for patients to understand their conditions, treatment options and risks. We have designed Chairsyde with the busy dentist in mind so it is easier, quicker and safer to communicate with patients.
What is Smart Tracking?
Chairsyde Smart Tracking is a unique contemporaneous method of tracking what content was shown to a patient, creating an audit trail for you to store in your notes.
How do I store tracking content in my practice management system?
Easy, we have a one click copy button that copies the entire tracking content for that patient. You can then simply paste this into the patient's notes. Alternatively, you will always have access to patient archives through Chairsyde.
What if i only want virtual and not animate?
What if i only want virtual and not animate?
Get started for free
Sign up and see for yourself how Chairsyde's solutions for dentists and dental practices can help you improve patient education and communications.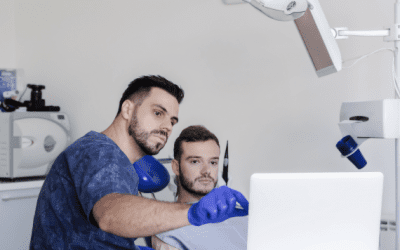 Anirudh Kapoor explains how Chairsyde is helping to transform patient communication. Dentistry has seen various changes through time. The last year has been no exception with the COVID-19 global pandemic sparking various arguments and opinions about the way that...
read more